A Transformation in Dense Breast Screening
SoftVue is an unparalleled 3D whole breast ultrasound tomography system. A breakthrough imaging technology for women with dense breasts. In fact, SoftVue is the only imaging modality designed specifically to find more cancer in women with dense breasts, while offering unmatched comfort and a positive patient experience.
When combined with mammography, SoftVue increases sensitivity by 20% and increases specificity by 8%, offering comprehensive characterization at the point of screening, reducing false positives and the need for diagnostic imaging at the BIRADS 3 threshold.
Request a Demo
SoftVue™ is PMA approved by the FDA indicated for dense breast cancer screening as an adjunct to mammography
Discover the many benefits of SoftVue™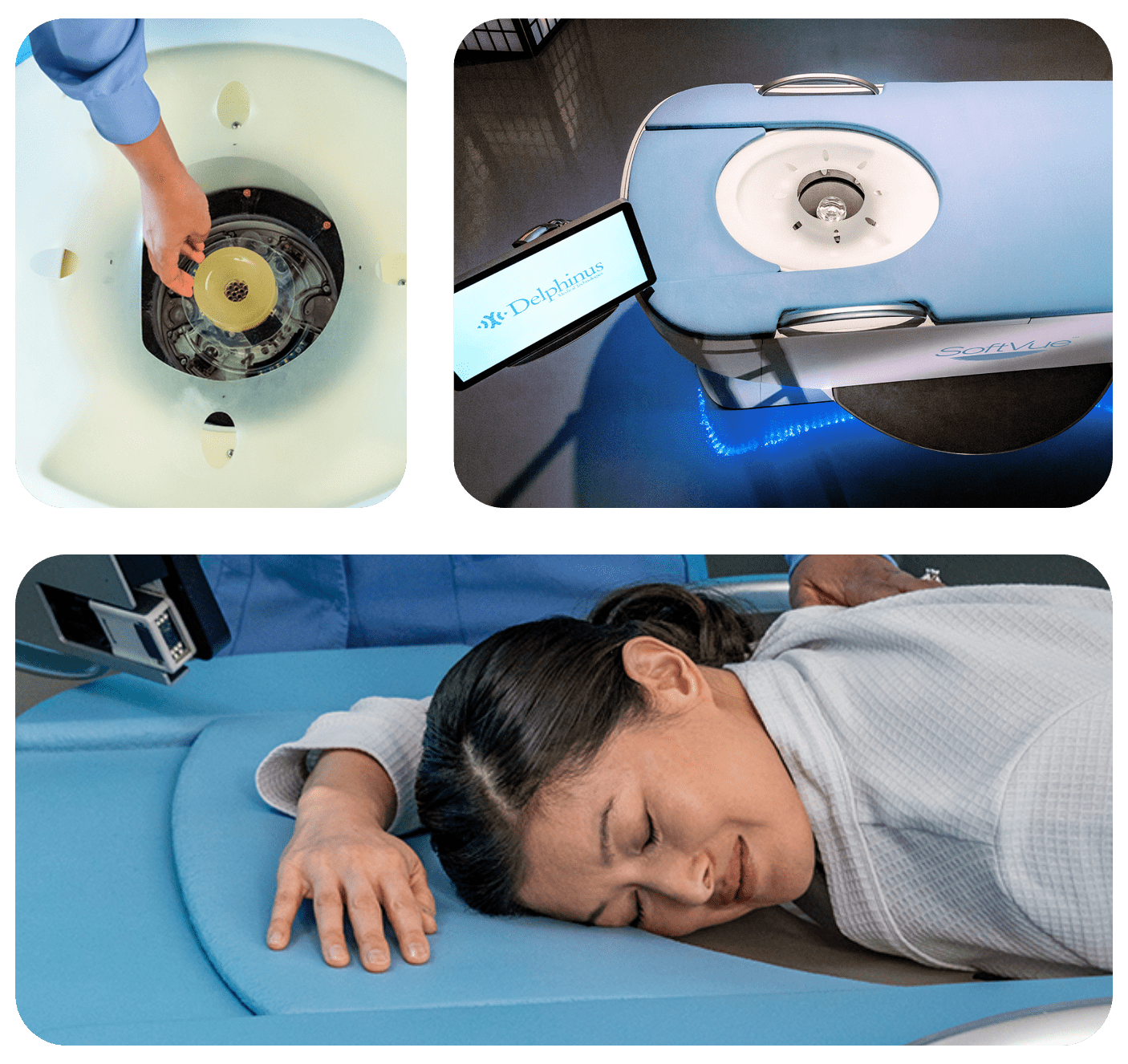 The SoftVue™ Difference
Central to SoftVue's innovation is the circular transducer and proprietary algorithms that power its TriAD triple acoustic detection technology, an ultrafast 360-degree electronic sequencing generating reflection, speed of sound, and attenuation imaging, presenting not only breast tissue structure but tissue characterization as well.
SoftVue's elegant profile is purposeful, presenting curved contours, soft lighting, and a gentle new method of breast imaging. Patient well-being is a high priority, so custom cushions and supple membranes are incorporated into the system to promote a calm and gentle experience, with no breast compression and no radiation.
Sequr™ & Gentle Guidance
The Sequr Breast Interface is a central component of the SoftVue system and serves an essential function. This soft anatomically-formed guide engages with the front of the breast to center, shape and steady it during the imaging procedure. By adjusting the breast contour and stabilizing the breast tissue, this one-per-patient consumable assists with proper positioning of the breast and promotes efficiency during image acquisition.